Ask Dr. Bloom - the St Pete Dentist
Posts for tag: dental implants
By Bloom & Wygodski Family Dentistry
October 20, 2014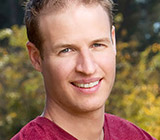 If you follow the hit TV reality show Amazing Race, you know that professional-hockey-playing brothers Bates and Anthony Battaglia won the $1 million prize in the latest globe-spanning competition. You may also have witnessed Anthony removing his false front teeth from time to time — like when he had to dive for pearls in Bora Bora. Since he plans to resume his sports career, Anthony wears a partial denture to fill the gap in his classic "hockey mouth." He has said that when he finally hangs up his skates, he will use some of his Amazing Race prize money to get new, permanent teeth. When it's time to get that new smile, Anthony, like many people, will have to choose between two good options for permanent tooth replacement.
The preferred option for most people is dental implants. In this system, tiny titanium posts substitute for the root part of your missing tooth (or teeth). These are placed beneath your gum line in a minor surgical procedure we perform right here at the dental office. The amazing thing about dental implants is that they actually fuse to your jawbone, allowing your replacement teeth to last a lifetime.
The titanium implant itself is not visible in the mouth; the part of an implant tooth that you see is the lifelike crown. Virtually indistinguishable from your natural teeth, the crown is attached to the implant above the gum line. Dental implants can be used to replace a single tooth, multiple teeth, or even all your teeth. You don't necessarily need one implant for every tooth because implants can support bridgework or even a complete set of prosthetic teeth.
The second-best option is a natural-tooth fixed bridge. In this system, we use healthy natural teeth on either side of the empty space left by a missing tooth (or teeth) as supports for one or more of the prosthetic teeth that will fill the gap. The downside is that in order to turn these healthy teeth into supports (which are referred to in dentistry as "abutments"), we need to remove some enamel and then cap them. This procedure can leave those teeth more prone to decay than they were before. But with regular dental exams and good oral hygiene on your part, bridgework can last many years.
Which system is right for you? That's a question we would be happy to help you determine... even if you haven't won a large jackpot or gone pearl diving in Bora Bora. If you've been looking forward to the day when you can have permanent replacement teeth, why wait? Contact us or schedule an appointment for a consultation. We will help you find your ideal solution to the problem of missing teeth! For more information, please see the Dear Doctor magazine articles "Dental Implants vs. Bridgework" and "Dental Implants: Your Third Set of Teeth."
By Bloom & Wygodski Family Dentistry
August 07, 2014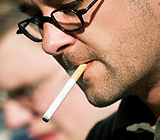 In a recent study, 92% of dental implants were found to have survived the twenty-year mark — an impressive track record for any dental restoration.
Still, implants do fail, although rarely. Of those failures, tobacco smokers experience them twice as often as non-smokers. The incidence of early failure (within the first few months after implantation) is even higher for smokers.
Early implant failure typically happens because the titanium implant and the surrounding bone fail to integrate properly. Titanium has a natural affinity with bone — the surrounding bone will attach and grow to the titanium in the weeks after surgery, forming a strong bond. An infection around the implant site, however, can inhibit this integration and result in a weaker attachment between bone and implant. This weakness increases the chance the implant will be lost once it encounters the normal biting forces in the mouth.
Smokers have a higher risk of this kind of infection because of the way tobacco smoke alters the environment of the mouth. Inhaled smoke burns the mouth's top skin layers and creates a thick layer of skin called keratosis in its place. Smoke also damages salivary glands so that they don't produce enough saliva to neutralize the acid from food that's left in the mouth after eating. This creates an environment conducive to the growth of infection-causing bacteria. At the same time, the nicotine in tobacco can constrict the mouth's blood vessels inhibiting blood flow. The body's abilities to heal and fight infection are adversely affected by this reduced blood flow.
The best way for a smoker to reduce this early failure risk is to quit smoking altogether a few weeks before you undergo implant surgery. If you're unable to quit, then you should stop smoking a week before your implant surgery and continue to abstain from smoking for two weeks after. It's also important for you to maintain good brushing and flossing habits, and semi-annual dental cleanings and checkups.
Although smoking only slightly raises the chances of implant failure, the habit should be factored into your decision to undergo implant surgery. Quitting smoking, on the other hand, can improve your chances of a successful outcome with your implants — and benefit your life and health as well.
If you would like more information on the effects of smoking on dental health, please contact us or schedule an appointment for a consultation.