Ask Dr. Bloom - the St Pete Dentist
Posts for: September, 2014
By Bloom & Wygodski Family Dentistry
September 24, 2014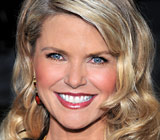 Supermodel Christie Brinkley has a one-in-a-million smile, but she is just one of millions who have benefited from today's preferred tooth-replacement technique: the dental implant. In a wide-ranging interview, Brinkley told Dear Doctor magazine about a helicopter accident she suffered while back-country skiing.
"I fractured two molars in the back of my mouth and I had to get two dental implants," Brinkley told the magazine. "I am grateful for the dental implant technology that feels and looks so natural."
You might think it serves little purpose to replace a missing back tooth that was barely visible in your smile to begin with — especially if you don't spend a lot of time posing for magazine covers. But this is actually not the case. Your molars are extremely important for chewing and even for maintaining a more youthful appearance.
Dentists generally agree that losing posterior (back) teeth can have many consequences for the remaining teeth and their surrounding structures, i.e., bone and gums. If back teeth are missing, the front teeth end up bearing more stress than they were built for. And there are certain things that happen when any tooth is lost, whether front or back, that can affect function and appearance.
For one thing, when a tooth is lost the adjacent teeth tend to drift into the empty space or tip towards it. This can adversely affect your bite. Too much shifting can render a tooth basically useless and also leave it more vulnerable to gum disease.
Another complication is the loss of tooth-supporting bone that inevitably occurs when teeth are lost. When a tooth comes out, the bone under it actually begins to melt away. Since back teeth support the vertical dimension of the face, their loss can cause what's known as "bite collapse" — a reduction in facial height that becomes increasingly noticeable over time and can make you look older.
A dental implant can prevent all of these things, while providing you with a replacement that looks and feels just like the tooth you lost.
If you are interested in learning more about implants, please contact us or schedule an appointment for a consultation. If you would like to read Dear Doctor's entire interview with Christie Brinkley, please see "The Secret Behind Christie Brinkley's Supermodel Smile." Dear Doctor magazine also has more on "Replacing Back Teeth."
By Bloom & Wygodski Family Dentistry
September 09, 2014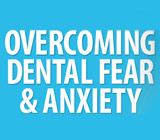 If you're apprehensive about visiting the dentist, you're not alone. Studies show a majority of us — as high as 75% — have experienced some form of anxiety about dental treatment. Between 10% and 15% of those have a high degree of anxiety that may cause them to avoid visiting the dentist altogether.
If you've experienced this level of anxiety, you weren't born with it. Such fears develop from early experiences with dentistry, or from stories or attitudes relayed to us by others. While this undue emotional stress could adversely affect your general health, the greater threat is to your oral health, if it causes you to avoid dental care altogether.
Fortunately, anxiety from the thought of dentistry can be overcome. The best approach is relatively simple — counteract the bad experiences of the past with new, more positive experiences. Moderate dentistry should be able to completely eliminate any discomfort during treatment. And with each new good experience, your feelings and attitudes will gradually change over time for the better.
The first step is to discuss your anxiety about dental care with us. It's important to establish trust with your care provider from the outset if you want to successfully overcome your anxiety. We will listen and not discount or diminish the reality of your fears and their emotional and physical effect; instead, we will work with you to include overcoming anxiety as a part of your treatment plan.
The next step is to proceed with treatments and procedures you feel you can easily undergo, so that at the end of each visit you'll have a more positive view of that particular treatment (and that you could undergo it again). We won't rush to complete treatments until you're ready for them. Although this may extend the duration needed to complete a procedure, it's important for us to proceed at a pace more conducive to creating and reinforcing new positive feelings and attitudes about dental visits.
In the end, we want to do more than treat an immediate or emergency-related dental condition. We want to help you overcome the anxiety that has kept you from seeking long-term dental care — and thus better dental health — a part of your life.
If you would like more information on overcoming dental treatment anxiety, please contact us or schedule an appointment for a consultation. You can also learn more about this topic by reading the Dear Doctor magazine article "Overcoming Dental Fear & Anxiety."