Panel only seen by widget owner
Our office is open for continued dental care
conforming to Covid-19 guidelines
Click for COVID-19 updates to our office here
Call us for details on our Dental Savings Plan for those who want to save without dental insurance. Many patients find our plan has better coverage and savings than their company plan!
Bloom & Wygodski Family Dentistry
General, Cosmetic &

Laser
Serving Pinellas County and our communities of St. Petersburg, Seminole, South Pasadena, Gulfport, Pinellas Park, Largo, St. Pete Beach, Madeira Beach and Babylon...
Trusted for over 30 years
Our website is an introduction to our dental office and practice philosophy. We are here to serve our patients and community. Our commitment is to provide you with the highest standard of personalized dental care in a gentle, efficient and professional manner.
The mission of Bloom & Wygodski Family Dentistry is to provide patient centered dentistry
in the most comfortable, friendly, and compassionate setting
We maintain a modern facility with the most technologically advanced techniques and equipment available. We trust you will find the atmosphere calming, the staff friendly, and our dental services exceptional and affordable.
At Bloom & Wygodski Family Dentistry, your comfort and confidence are just as important as your dental health to us. Our dentists, Drs. Bloom and Wygodski, have extensive training and experience in both restorative and preventive dental services.
Dr. Steven Bloom has advanced training in Laser and Cosmetic Dentistry and has been a St. Petersburg dentist for over 35 years. Dr. Alexa Moccia has advanced training in both Cosmetic Dentistry and Inisalign treatment. Dr. Charlene Wygodski limited her practice to children's dental care but is presently retired and not accepting patients.
Drs. Bloom and Moccia devote a considerable amount of time to each patient, listen to concerns and desires, and customizes the optimum dental treatment for each individual, within one's comfort level and budget. If you have insurance, we help you maximize your benefits. If not, we offer an In Office Savings Plan that often has better benefits than most dental insurances offer (no waiting period, no deductible, no annual limits).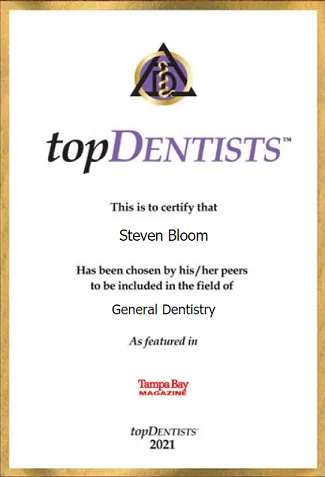 Dr. Steven Bloom has been selected by his peers as a Top Dentist and will appear in the September 2021 issue of Tampa Bay Magazine.
He has been consistently listed there since 2008.

Tampa Bay Magazine Top Dentists St. Petersburg, FL 2021

We believe in conservative dentistry, trying to maintain healthy tooth structure when possible as our goal, which can help avoid root canal treatments and crowns. Dr. Bloom utilizes both laser dentistry and ozone treatment to enhance his restorative treatments for optimum disinfection of teeth and gums. (same concept as the ozone gas we use to disinfect the office every night).
Our office considers it an honor and privilege to have you as a patient, and we do our best to treat you as a guest ... offering a comfortable, professional and relaxing visit.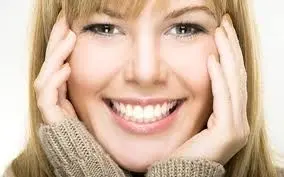 Our training and continuous education allow us to treat patients who come to us because they know we explain all options prior to treatment, we offer financing plans or spread out treatment by priority when needed, and we take as much time as necessary to make sure patients are completely numb (anesthesia not always even needed with our lasers) and comfortable during treatment.
We're sorry if you've had a bad experience elsewhere in the past, but modern dentistry can offer great options such as oral sedation and laser treatment to make apprehensive patients more comfortable to get the treatment they need. Or maybe you're tired of them playing dentist roulette with you every time you show up (who's my dentist today?)
We may mention it a lot because we really do want you to be very comfortable during your treatment. We have massage controls on our treatment chairs, cable tv and patient education monitors in every room. Dr. Bloom also has training in oral sedation - take a tiny pill before your dental care for those who want to really relax.
But most of all, we have caring doctors and team members whose top goal is to make your visits comfortable and exceptional.
We believe that making your smile the best it can be will go a long way in improving your quality of life. A beautiful smile builds confidence - healthy teeth and gums improve your overall health. It is our goal to help you achieve both!
Dr. Bloom is passionate about helping the less fortunate and donates his time to provide dental care on mission trips to various locations including Peru, Mexico, Jamaica and here in our community, including the St Petersburg Free Clinic.
We can help you make a decision regarding your dental care choices (and yes, we will tell you if we agree with another dentist's recommendation so you can be confident in your dental care even elsewhere)
We offer a consult special for just $59 (if you bring or have emailed your own x-rays)
or limited exam and 2 digital x-rays for $79
(we are happy to email your x-rays to you after too)
- New Patients Special Offer -
Internet "New Patient Special" - $129
for Complete Exam and X-Rays
(up to $235 value)
(sure you can find other offers for even free, but will it be with an experienced dentist in a non-clinic office that provides you personalized treatment ?)
call and ask for the "Internet New Patient Special" (sorry, we only accept so many of these each month so call soon if you have an uncomfortable dental problem)
Call us now at (727) 384-4151
Good dentistry is more than excellent clinical skills and state-of-the-art equipment. You will see the same dentist and staff each visit (some of our team members have been with us 20 years!)

Working together, we can help you have the smile you deserve.

Visit Laser Dentistry for more information on how our laser dental care may help with your dental treatment and comfort! Dr. Bloom is one of the first dental offices in Florida to offer Nightlase Laser Treatment for mild sleep apnea and snoring (for his patients of record).
Included in these web pages is information about our Family Dentistry office, including our St. Petersburg dentist location, maps, directions, hours, insurance policies, and appointment scheduling. You can even email an Appointment Request right now!
We hope you find this website useful and invite you to Contact Us with your questions at any time.
Please call us at (727) 384-4151
Chris in our front office or any of our qualified dental team members are available to assist you. New Patients are always welcome. Whether you are new to the St. Petersburg or Pinellas County area or seeking an improved dental experience, we invite you to call or visit our office. We also serve many seasonal patients that live outside our area and trust us with their care when visiting our beautiful city.